5 Favorite Features of Microsoft Teams
Copyright AKAVEIL Technologies LLC all rights reserved
Written by: D. Gowen
This article is one of many promised follow-ups on the topic of Microsoft Teams. Teams is included with Microsoft 365 subscriptions along with all your favorites like Word, Excel, PowerPoint, Outlook, OneDrive and SharePoint. Therefore, Teams integrates seamlessly with the entire Microsoft 365 suite.
There is also a free consumer version recently made available which may not be inclusive of all the feature rich capabilities included for the licensed users, but either way it's a great solution on so many levels there is definitely something in it for everyone. As an individual user of the service since its first inception in early 2017 it is exciting to try new features as the product continues to evolve.
These are a few of my favorite Microsoft Teams features (only 5 for now)
1 – Mobility
Whether you are in your office, on a tablet or smart phone, same capabilities. Quick access to files, posts, chats, team discussions, meetings anytime, anywhere all from any device. It's like being in a cubicle next to a teammate via a touch screen or click.
2 – External people
Yes, a person does not have to be a member of your organization to be included as a Team member, in channels, have access to content, collaborate or attend meetings.
The key to setting this capability up the Admin Module for your Teams tenant. Only if your company allows this setting to be turned on, will external contacts be allowed as Team members. Be sure any content you post in channels where external parties are members also have the appropriate security levels and permissions set in SharePoint which is where all Teams files are stored.
However, external parties can be invited to meetings without any worries of the above security and permission settings.
3 – Virtual backgrounds
To keep current with other alternatives for video conferencing, Microsoft was quick to add virtual backgrounds in 2020 to its arsenal of features. You can select from the stock backgrounds included or customize and upload your own creation. This is an especially important feature in today's WFH (work from home) offices. No more worries about visible distractions behind while your video camera is on.
4 – Raise hand
Added in 2020 was the raise hand icon on the floating toolbar. This makes it easy for anyone in the meeting to know someone has a comment, question or needs attention.
5 – Whiteboard
While in a meeting, screen share and one of the options is Whiteboard. Very convenient!
Favorite future feature.
As a Microsoft Partner, AKAVEIL has received early release of a great value add feature. The ability to attend a meeting in a separate window from the main application. This allows ease of moving around the Teams environment as needed instead of being anchored in the meeting only. More on this feature when it rolls out to everyone.
Teams and Education Customers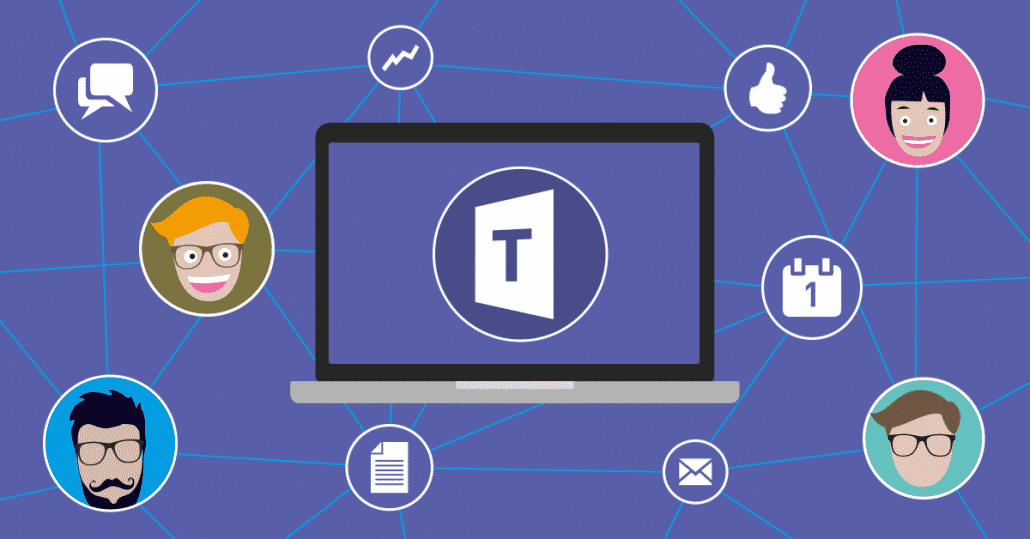 In addition to the above, note that this cloud-based Microsoft service was originally designed for business use, but now serves various target markets including education.
Microsoft has always catered to the educational industry with its products and license structures. However, Microsoft is currently morphing Teams specifically to align to education of online learners including children. Microsoft has announced many capabilities and features which will align to the needs of K-12 remote learning or realistically any online learning in general.
Features include presenter (teacher) only permissions for removing a person from a meeting and turning microphones on/off. Teachers will not get much accomplished if students are dropping each other from class meetings or speaking whenever they want. For teachers this is just like live classroom management where students need to sit quietly in their seats and be called upon.
Other items include gallery style seating, break out rooms and automated attendance reporting. These features are either already available or coming soon. All the same benefits in place for business can be leveraged for education industry as well.
The Bottom Line
As a Microsoft Partner, AKAVEIL has been using Teams since it first arrived in the Spring of 2017. This product mimics the way people work together in a live face to face setting. Since its inception, Microsoft developers have continued to add feature upon feature to meet best practices for workplace engagement. Despite its huge benefits and popularity, it is amazing how many businesses still have not tried it.
Need help to start your journey with Microsoft Teams? Contact us to learn more:
https://akaveil.com/contact-us/
If you haven't tried Microsoft Teams yet also refer to this article for a basic understanding: https://akaveil.com/business-collaboration-with-microsoft-teams/